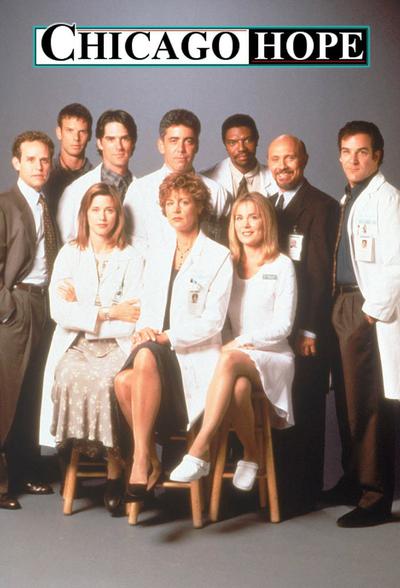 Complete season
Country:
US
Network:
CBS
Release date:
1994-09-18
Genres:
Drama
Soap
Crew:
Rob Corn, Dennis Cooper, Michael Dinner, Tim Kring, David E. Kelley, Dawn Prestwich, Nicole Yorkin, John Heath, Kevin Arkadie, Patricia Green, James C. Hart, John Tinker, Bill D'Elia, Marjorie David, Michael Braverman, Henry Bromell, Michael Pressman
Cast:
Adam Arkin
Barbara Hershey
Carla Gugino
Christine Lahti
E.G. Marshall
Eric Stoltz
Hu00e9ctor Elizondo
Jamey Sheridan
Jayne Brook
Lauren Holly
Mandy Patinkin
Mark Harmon
Peter Berg
Rocky Carroll
Roma Maffia
Roxanne Hart
Stacy Edwards
Thomas Gibson
Vondie Curtis-Hall
Runtime:
60 min
Language:
EN
IMDb:
Chicago Hope
Overview
Chicago Hope is an American medical drama television series, created by David E. Kelley. It ran on CBS from September 18, 1994, to May 4, 2000. The series is set in a fictional private charity hospital in Chicago, Illinois. The show is set to return in the fall of 2013 on TVGN in reruns.rn
Other seasons of this show
Download links and episode guide
If you find a dead link write in the comments or email us, and we will fix it in short time.
See also