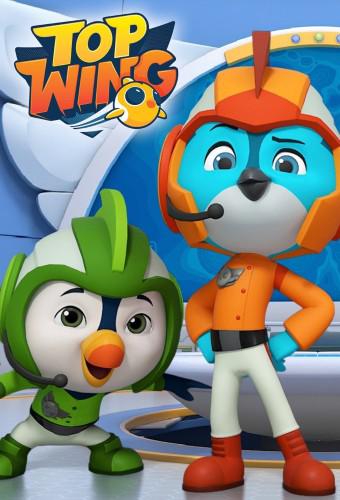 Coming soon...
Release date
November 06, 2017
Best friends and cadets-in-training Swift, Penny, Rod, and Brody congregate at Top Wing Academy, where they learn what it takes to gain their wings and become rescue birds on Big Swirl Island. Swift is a blue jay and the fastest pilot at the academy; Penny, the only female in the group, is a penguin, and she is an expert at undersea life; Brody is a puffin who takes a more land approach, and Rod is a rooster who is ready to fly around Big Swirl Island in his all-terrain vehicle. The four friends are joined by their mentor Speedy, who helps the cadets on their different missions
Dear users! Please purchase XUBSTER premium access for one month only, after this month expires, purchase again for one month. This way you will give maximum support to our website. We hope for your understanding and thank you very much.
If you find a dead link write in the comments or email us, and we will fix it in short time.
Episode 1
S02 E01 - Cheep, Chirp, and The Pirates Treasure

Will be soon
Episode 2
S02 E02 - Rod's Family Popcorn Party

Will be soon
Episode 3
S02 E03 - Top Wing Rescues the Academy

Will be soon
Episode 4
S02 E04 - Top Wing Sting

Will be soon
Episode 5
S02 E05 - Big Banana Break-In

Will be soon
Episode 6
S02 E06 - Top Wing Spring Fling

Will be soon
Episode 7
S02 E07 - Dancing Daffodil Rescue

Will be soon
Episode 8
S02 E08 - Penny Rescues Survivor Bear

Will be soon
Episode 9
S02 E09 - Penny's Jungle Adventure

Will be soon
Episode 10
S02 E10 - Trouble With Treegoats

Will be soon
Episode 11
S02 E11 - Rhonda's Rockin' Family Reunion

Will be soon
Episode 12
S02 E12 - Shirley's Nutty Vacation

Will be soon
Episode 13
S02 E13 - Amazing Action Rescue

Will be soon
Episode 14
S02 E14 - Swift's Family Flying Ace

Will be soon
Episode 15
S02 E15 - Timmy's Pirate Adventure

Will be soon
Episode 16
S02 E16 - Big Swirl Beach Watch

Will be soon
Episode 17
S02 E17 - Survivor Bear's Adventure Tour

Will be soon
Episode 18
S02 E18 - The Haunting of Pirate Cove

Will be soon
Episode 19
S02 E19 - Penny and Bea Rescue Team

Will be soon
Episode 20
S02 E20 - Top Wing Levels Up

Will be soon
Episode 21
S02 E21 - A Top Wing Christmas

Will be soon
Episode 22
S02 E22 - Gone Gondola Gone

Will be soon
Episode 23
S02 E23 - Hasselhawg Swim Lesson

Will be soon
Episode 24
S02 E24 - Arrgh Me Snugglies

Will be soon
Episode 25
S02 E25 - Earl the Gadget Squirrel

Will be soon
Episode 26
S02 E26 - Inspector Eagle Eye Returns

Will be soon
Episode 27
S02 E27 - Lemon Shack Hi Jack

Will be soon
Episode 28
S02 E28 - Ker-Splash Canyon Tour

Will be soon
Episode 29
S02 E29 - Big Swirl 500

Will be soon
Episode 30
S02 E30 - Big Swirl Blackout

Will be soon
Episode 31
S02 E31 - Brenda's Gift

Will be soon
Episode 32
S02 E32 - The Big Swirl Balloon Race

Will be soon
Episode 33
S02 E33 - Kelp is on the Way

Will be soon
Episode 34
S02 E34 - Top Wing Rescues Ker-Splash Canyon

Will be soon
Episode 35
S02 E35 - Brody's Flying Lesson

Will be soon
Episode 36
S02 E36 - Brody's Purple Pearl Rescue

Will be soon
Episode 37
S02 E37 - Pirate Playzone

Will be soon
Episode 38
S02 E38 - King of the Dodos

Will be soon
Episode 39
S02 E39 - Waterfall Jump

Will be soon
Episode 40
S02 E40 - Top Wing Tour Guides

Will be soon
Episode 41
S02 E41 - Survivor Bear and the Secret of Ker-Splash Canyon

Will be soon
Episode 42
S02 E42 - Great Ker-Splash Race

Will be soon
Episode 43
S02 E43 - Earl's Nutty Invention

Will be soon
Episode 44
S02 E44 - Big Swirl Break-Up

Will be soon
Episode 45
S02 E45 - Dodo Egg Scramble

Will be soon
Episode 46
S02 E46 - Trini's Trintastic Big Swirl Tour

Will be soon
Episode 47
S02 E47 - Baddy and the Bad Wings

Will be soon
Episode 48
S02 E48 - Cheep and Chirp's Splashy Surf Show

Will be soon