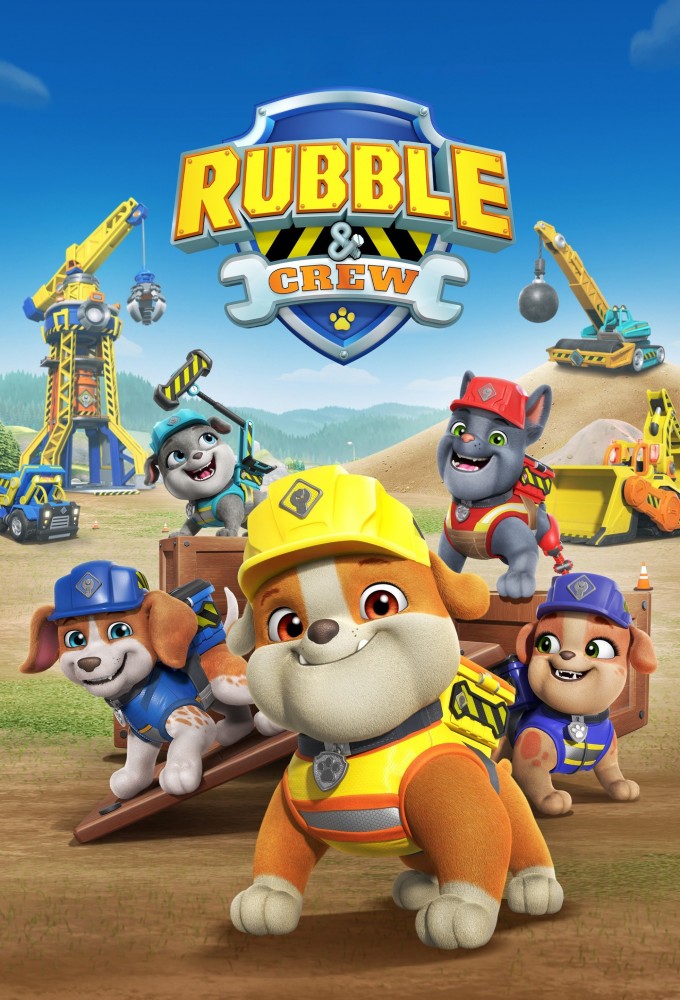 Coming soon...
Release date
February 03, 2023
Crew
Jonah Stroh, Ronnen Harary, Leah Wolfson, Laura Clunie, Bradley Zweig, Gillian Pike, Dan Mokriy, Sarah Serata, Toni Stevens, Tara Tucker-Matheson, Jennifer Dodge, Hanna El-Mohandess
What could be more fun than a puppy in a construction vehicle? Lots of puppies in lots of construction vehicles. Rubble and his family - aunt, grandpa, cousins and siblings - are working hard to make their town, Builders Cove, an awesome place to live. Join Rubble and his crew in the PAW Patrol spin-off.rn
Dear users! Please purchase XUBSTER premium access for one month only, after this month expires, purchase again for one month. This way you will give maximum support to our website. We hope for your understanding and thank you very much.
If you find a dead link write in the comments or email us, and we will fix it in short time.
Episode 1
S01 E01 - The Crew Builds a Bridge

Will be soon
Episode 2
S01 E02 - The Crew Builds a Big Bike Shop

Will be soon
Episode 3
S01 E03 - The Crew Builds a Super Tub

Will be soon
Episode 4
S01 E04 - The Crew Builds an Ice Cream Shop

Will be soon
Episode 5
S01 E05 - The Crew Fixes a Squeak

Will be soon
Episode 6
S01 E06 - The Crew Builds a Playground

Will be soon
Episode 7
S01 E07 - The Crew Fixes a Roof

Will be soon
Episode 8
S01 E08 - The Crew Builds a Car Wash

Will be soon
Episode 9
S01 E09 - The Crew Plans Grandpa Day

Will be soon
Episode 10
S01 E10 - The Crew Builds A Skate Park

Will be soon
Episode 11
S01 E11 - The Crew Builds A Tunnel

Will be soon
Episode 12
S01 E12 - The Crew Builds a Beaver Home

Will be soon
Episode 13
S01 E13 - The Crew Fixes a Road

Will be soon
Episode 14
S01 E14 - The Crew Builds A Popcorn Cafu00e9

Will be soon
Episode 15
S01 E15 - The Crew Fixes A Slippery Mess

Will be soon
Episode 16
S01 E16 - The Crew Builds A Drive-In Movie Theater

Will be soon
Episode 17
S01 E17 - The Crew Finds A Rainbow Treasure

Will be soon
Episode 18
S01 E18 - The Crew Builds A Pig Barn

Will be soon
Episode 19
S01 E19 - The Crew Builds A Giant Runway

Will be soon
Episode 20
S01 E20 - The Crew and Marshall Build A Fire Station

Will be soon
Episode 21
S01 E21 - The Crew Does a Home Renovation

Will be soon
Episode 22
S01 E22 - The Crew Builds a Lighthouse

Will be soon
Episode 23
S01 E23 - The Crew Builds A Dinosaur Museum

Will be soon
Episode 24
S01 E24 - The Crew Builds A Wheelchair Ramp

Will be soon
Episode 25
S01 E25 - The Crew Builds A Splash Park

Will be soon
Episode 26
S01 E26 - The Crew Builds A Playroom

Will be soon
Episode 27
S01 E27 - The Crew Builds A School

Will be soon
Episode 28
S01 E28 - The Crew Builds A Waterway

Will be soon
Episode 29
S01 E29 - The Crew Builds An Observatory

Will be soon
Episode 30
S01 E30 - The Crew Builds A Zipline

Will be soon
Episode 31
S01 E31 - The Crew Builds A Library Tea Shop

Will be soon
Episode 32
S01 E32 - The Crew Builds A Dance Floor

Will be soon
Episode 33
S01 E33 - The Crew Fixes A Haunted House

Will be soon
Episode 34
S01 E34 - The Crew Builds A Bat House

Will be soon
Episode 35
S01 E35 - The Crew Builds a Christmas Show

November 29, 2023
Episode 36
S01 E36 - The Crew Builds a Sled Ramp

November 30, 2023
Episode 37
S01 E37 - The Crew and Chase are on the Case

December 04, 2023